- No new news items right now -
Resources
I direct and supervise the Stuttering Clinic at the Language, Speech and Hearing Center, California State University at Northridge (CSUN)

Individual one hour therapy is offered for ages preschool to adults at an affordable rate. Therapy is given by supervised graduate level clinicians.

The clinic currently takes place on Monday and Wednesday.

" Special Education Articles "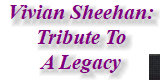 For more information call - ( 818 ) 677-2856
- 1 article, CSHA presentation, PDF handout -